Nelson Mandela, our own African Hero once said,'' Education is the most powerful weapon which you can use to change the world'' it is in light of this thus why we pursue the opportunity for studies and when it is found , we grab it with both hands. On 21st August, 2018, the aeroplane landed at Amsterdam International Airport and for the first time my feet stepped on the soils of Europe.
Since Ifumbo is found in the remotest area of Malawi, moving from such environment coming to Europe was like going to another planet. Life in     Europe is far much ahead compared to Malawi; we are separated by hundreds of years if we compare infrastructure development of these two countries. But one shocking thing that I have observed in the few months I have been here is that Netherlands has many beautiful Church buildings that are deserted; the majority of people seem to be too busy to go to Church on Sunday. In Malawi, many places do not have Church buildings instead they worship under the trees which become risky during rainy season. Two weeks ago a branch of tree fell down during the Sunday service in Ifumbo in one of the nearby congregations injuring many people in the process. When I see several Church buildings not being used here, I feel pain in my soul. I wish these buildings can be transferred to Malawi where we still have people who are hungry to hear the Word of God.
This article was delayed because I was waiting to confirm the news whether the container which was sent to Ifumbo has reached Malawi but, as I write I am told that the container is still in South Africa.
Once again, I would like to thank the Members of Mearns Kirk for the support which is being sent to us in Malawi.
IFUMBO WILL HAVE A NEW MINISTER
When I was applying for the studies, I thought I would go back to Ifumbo after my studies next year, but when the Synod sat down they came up with a decision that a new Minister should be sent to Ifumbo this November 2018
This means that when I come from here next year, I will be posted to another congregation. It is not an easy situation, especially when I feel there are many things that were left unfinished. However, everything works together for good am sure God has better plans for the people of Ifumbo.
I have been in touch with new Minister who is going to Ifumbo and I believe he will carry on the vision especially the agogo, youth and the farming project which were just beginning .
This is Rev Kondwani Nyika who has been posted to Ifumbo.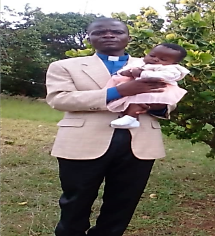 This is a difficult period for Church members, but its my prayer that all will be well.
Next year, first week of April, I have an opportunity to visit UK and it is my hope that I will have an opportunity to visit Mearns Kirk.
May God bless you and all the good work you are doing for us in Malawi.