Our opening meeting was very successful with a visit from Joe, which included a most interesting film of his stay in Orkney.  We all enjoyed it so much, especially with the little snippets of history slipped and, of course, the scenery was beautiful.  Special thanks to Violet for her photography and collating.
Sheila McIntyre was unable to come to our 2nd meeting, due to a family emergency, so Vicky stepped in at the last minute and gave us an update on all that was happing at MKHH, which was most helpful and appreciated.
Michael McCreadie, the wheelchair curler, was truly an inspiration.  Having been diagnosed with polio at 10 months old, he was put into a Children's Home in Largs, where he stayed until he was 16.  Without doubt, his indomitable spirit got him through these years.  He was so cheerful and unassuming, making light of all he had achieved.  His film showed his various sports - swimming, basketball and, of course, curling.  He played for our National Teams at World Championship and at the Olympics, being very successful in all.
He then became Coach for the National Teams in both events.  He brought along his World Championship Medals (which were actually beautiful), having travelled all over the world to take part in World Championships and the Olympics.  When he finished telling us the story of his childhood, all the ladies wanted to give him a hug - which he totally encouraged!  An afternoon of laughter and enjoyment, but very humbling.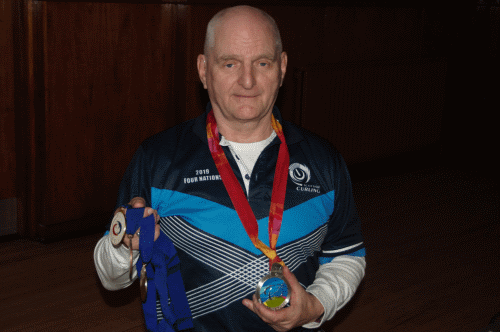 On Wednesday 30th October we are holding our Guest Afternoon, when we are delighted to entertain representatives from all the 10 Churches in our area.  At the moment we have 8 acceptances and a good number from each Church,  This is always a very happy occasion and, this year, our entertainment is being provided by the The Friendship Singers, led by Jean Binning, whom many of you will remember when she was our organist.
On Wednesday 13th November we having a special evening meeting at 7.30pm in the Sullivan Hall, where we will be entertained by Alistair McDonald. Alistair is such a well-loved figure in Scottish music circles.
Of course, the renowned Guild Supper will be provided! Tickets, priced at £6, can only be had from Guild Members - since space is limited.
On 27th. November we return to Afternoon Guild with a visit from Sheila Gordon of Crossreach. Her talk is entitled "Join the Dots" which sounds intriguing.
On 7th December we will be having a Christmas Tea Shoppe in the Sullivan Hall from  10—12noon with our usual attractive stalls to tempt you, lots to eat with tea and coffee, and lots of cheerful company.  We hope you will all come along to boost our funds for the Church and our Charities.
On 11th December brings us to what was always our Christmas Party but, over the last few years, we have been delighted to welcome our Church Choir to join us in a programme of Christmas music and carol singing.  It is such a special afternoon for us in the lead up to Christmas and, of course, our afternoon tea with seasonal goodies.
On 18th December we will all be at Caulders for Christmas Lunch.
We did this last year and it was so successful, the ladies opted to go back this year.
Now to 2020 - last year passed in a flash and we are all a bit breathless!!
On 8th January we have a visit from Duncan McIntyre who will talk to us about Iona and the Iona Community. I am sure this will be of interest to everyone, so please come and join us.
On 22nd January we have our Scots Afternoon, when we have been invited to join the children of Mearns Primary School for some Scottish Celebrations which we are looking forward to.  Then it is back to our hall for our traditional Scottish Afternoon Tea.                    
As you can see, this is a very varied programme.  Everyone is welcome at the Guild, both ladies and gentlemen.  It is very difficult to change centuries of tradition of a Woman's Guild, but we try to arrange a syllabus now which will appeal to both sexes.  Gentlemen, don't be hesitant about coming along - we already have one young gentleman in our Guild!  You will be made very welcome and I am sure you will enjoy our   Speakers.
May I, on behalf of the Guild, finish by wishing you all a Christmas blessed with peace, joy and contentment.