I have been asked to share with you a little about the two Sharing Faith evenings organised by the Outreach Group at the beginning of October. The number of people who came to these meetings was quite small, but the fellowship experienced was very encouraging.
This is a difficult subject as most of us are a bit unwilling to talk to other people about what we believe. Although our faith is personal, it isn't private. If the disciples had kept their story private, I doubt if you would be reading this today. We are links in a chain stretching back 2,000 years and how we lengthen this chain, is how we share faith today.
To help us we used a book called "Sharing Faith the Jesus Way" by Jim Currin. In his book, Jim Currin takes us back to Jesus and looks at how he interacted with the people he met.
We used the image of a triangle shown below. God is at the top of the triangle, you are on the left and the other person is on the right. God's love for you (left  arrow down) and your love for him (left arrow up) are ongoing. Your relationship with the other person (bottom arrow right and left) is growing. God also loves the other person (right arrow down). By sharing faith, the hope is that the other person will respond and love God too (right arrow up).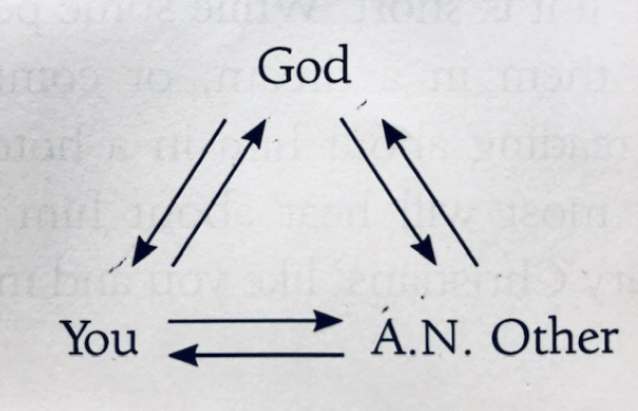 At our first meeting, we looked at our relationship with God, recognising that at any given time, that relationship could be in a good place, a far from positive place or somewhere in between. Our faith fluctuates – sometimes it is strong, sometimes weak, sometimes it is a rock, sometimes a burden. This being the case, witnessing or sharing faith is a difficult proposition. How can we convince others when we are often unsure ourselves?
In the gospels, we saw that Jesus teamed up with all sorts of people, who came with their own abilities and characters, but with their failings and shortcomings too. As Jesus accepted the people he met, so he accepts us, warts and all. He can use us even when we aren't on top form faith wise! By looking at faith journeys; my own and those of Sam and Dan Brooks, we saw that it is sometimes only with hindsight that we see how we are used by God through the twists and turns of our lives.
Being accepted as we are is huge, but Jesus does want us to change. Have a read of 2 Corinthians 3:18. "Being transformed into his likeness with ever increasing glory, which comes from the Lord, who is the Spirit." 
At our second meeting, we then looked at our relationships with other people, again through the example of Jesus. Jesus always saw the other person's need and dealt with that first – no matter what they were asking for. Think about the paralysed man – Jesus met his greater need first – the forgiveness of his sins, before he healed him of his paralyse. Jesus saw what got in the way of the man being in a good relationship with God and addressed that first. When Jesus met people, he didn't have "a one size fits all" policy. He dealt with people according to their individual need. The lesson for us? Are we good at really listening to other people and understanding what their need is? 
Having listened, how then do we communicate what we believe to others? Today using words like sin, repent, conversion may sit uncomfortably with us but, in essence Jesus, without using these words, was conveying the same message in addressing the change needed in people to follow him. For example, to the rich young ruler, Jesus says give your goods to the poor – as he recognises that to the young ruler his wealth is a stumbling block to him. To the woman caught in adultery, Jesus says go and sin no more. He speaks to the specific situation, but the need for change in each person is clear.
Looking again at our triangle, what then do we say to people to elicit a response from them to God's underpinning and overarching love?  Jim Currin suggests that we show this love through prayer, through caring and through sharing. Our evenings didn't provide enough time other than to touch on these headings, but we did recognise that there is need and scope within our Church for more coming together for prayer, for more opportunities to share amongst ourselves and for more study of God's word. Our thought was that if we are reluctant to share with likeminded people within the Church, how will we share with people outside the Church. I hope that in the coming months, some of us can sit down and think about how we can take these ideas forward in a helpful and loving way.
I would just finish by looking again at the diagram below. Please remember that it is not our mission to A.N.Other, it is God's mission. Whilst we must use the gifts and abilities given to us, ultimately it is God's Holy Spirit that will make the difference